3 Steps to Incredible Health with Dr. Joel Fuhrman, M.D.
Dr. Fuhrman
PBS - 3 Steps to Incredible Health!
3 STEPS TO INCREDIBLE HEALTH! with Joel Fuhrman, MD is a sixty-minute PBS pledge program that directly addresses the crisis of obesity and chronic disease plaguing America. Dr. Fuhrman offers a healthy, effective, and scientifically proven plan for shedding weight quickly and reclaiming the vitality and good health we all deserve.
Dr. Joel Fuhrman shares his revolutionary program to prevent and reverse disease through nutritional and natural methods. His 3-step plan addresses the power of micronutrients, eliminating food addictions, and super foods for health and pleasure. His plan is not about will power; it's about knowledge. This healthy, effective, scientifically-proven plan helps you shed weight quickly and reclaim the vitality and good health you deserve.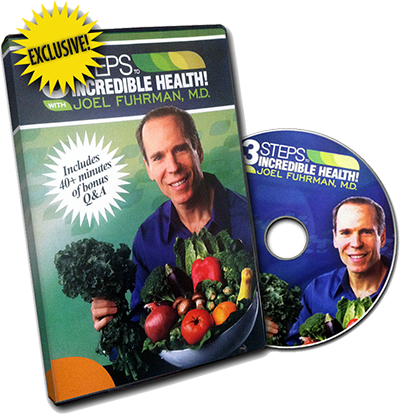 $180 pledge in full or $15.00 ongoing monthly sustainer contribution:
DVD: 3 Steps to Incredible Health
DVD: (8 Set) Eat to Live Library
PBKS:Eat for Health; Dr. Fuhrman's 10 in 20; 100 Best Foods for Longevity
HBK: Eat to Live Quick & Easy Cookbook
Online Membership
PDF download
$72
Pledge in full or
$6.00
ongoing monthly sustainer contribution:
DVD: 3 Steps to Incredible Health Program DVD