The 38th Annual Blues Music Awards
The 38th Annual Blues Music Awards airs on WKNO/Channel 10 Saturday, February 24 at 8:00 p.m. Universally recognized as the highest accolade afforded blues musicians, The Blues Music Awards upholds its rich cultural tradition by honoring the past year's superior achievements in blues performance, songwriting, and recording. This annual ceremony represents the premier event for blues professionals, musicians, and fans around the globe.
Sugar Ray Norcia, individually, and collectively with his band, The Bluetones, received the most nominations with seven, including B.B. King Entertainer Award, Best Song, Best Album and Best Band. The total reaches ten with the inclusion of his Bluetones bandmates Monster Mike Welch (Instrumentalist-Guitar), Michael "Mudcat" Ward (Instrumentalist-Bass) and Anthony Geraci (Pinetop Perkins Piano Player). Chicago-based guitarist Toronzo Cannon garnered four nominations and he faces off against Norcia in both the Best Song and Best Album categories. Best Album probably ranks as the most competitive category, with Norcia and Cannon battling Bobby Rush, Kenny Neal, William Bell and the Nick Moss Band, who all have three nominations.

Several nominees will be defending their titles won at last year's Blues Music Awards. Instrumentalist-Harmonica winner Kim Wilson is one of this year's nominees, and Cedric Burnside might again claim the Instrumentalist-Drums crown. Shemekia Copeland and Bettye LaVette also return to the categories they won last year (Contemporary Blues Female Artist and Soul Blues Female Artist, respectively), while 2016's Acoustic Artist winner, Doug MacLeod, is one of this year's contenders too.

The Awards also honor the next generation of blues performers with the Best Emerging Artist Album category. In fact, two Emerging Artist nominees also are contenders for a second award. Detroit native Thornetta Davis's "I Gotta Sang the Blues" is up for Best Song, while Terrie Odabi is competing against the likes of Bettye LaVette and Mavis Staples to be named Soul Blues Female Artist.

The Blues Music Awards ceremony annually proves to be one of the year's best shows. Not only does almost every nominee attend, but they also perform, creating a lineup featuring the best of the best in blues all in one evening.


No Current Showtimes Available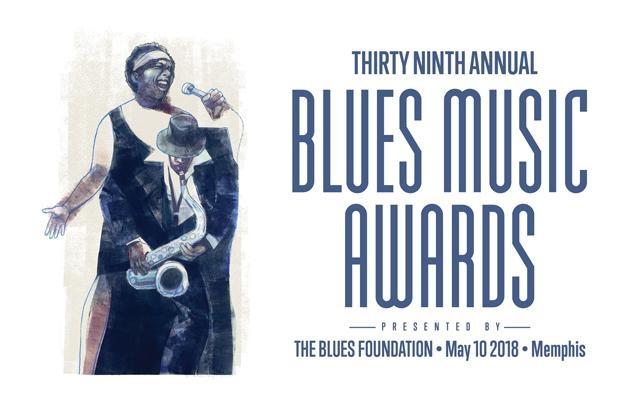 38th Blues Music Award Nominees:
Acoustic Album
Eric Bibb – The Happiest Man in the World
Fiona Boyes – Professin' the Blues
Jimmy "Duck" Holmes – Live at Briggs Farm
John Long – Stand Your Ground
Luther Dickinson – Blues and Ballads (A Folksinger's Songbook) Vol I and II
Acoustic Artist
Doug MacLeod
Eric Bibb
Fiona Boyes
Jimmy "Duck" Holmes
Luther Dickinson
Album
Bobby Rush – Porcupine Meat
Kenny Neal – Bloodline
Nick Moss Band – From the Root to the Fruit
Sugar Ray & the Bluetones – Seeing is Believing
Toronzo Cannon – The Chicago Way
William Bell – This Is Where I Live
Band
Golden State Lone Star Blues Revue
Lil' Ed & The Blues Imperials
Nick Moss Band
Sugar Ray and the Bluetones
Tedeschi Trucks Band
B.B. King Entertainer
Joe Bonamassa
John Nemeth
Lil' Ed Williams
Sugar Ray Norcia
Sugaray Rayford
Best Emerging Artist Album
Corey Dennison Band – Corey Dennison Band
Guy King – Truth
Jonn Del Toro Richardson – Tengo Blues
Terrie Odabi – My Blue Soul
Thornetta Davis – Honest Woman
Contemporary Blues Album
Al Basile – Mid Century Modern
Kenny Neal – Bloodline
Nick Moss Band – From the Root to the Fruit
The Record Company – Give It Back To You
Toronzo Cannon – The Chicago Way
Contemporary Blues Female Artist
Alexis P Suter
Ana Popovic
Janiva Magness
Shemekia Copeland
Susan Tedeschi
Contemporary Blues Male Artist
Albert Castiglia
Kenny Neal
Mike Zito
Sugaray Rayford
Toronzo Cannon
Historical Album
Arthur "Big Boy" Crudup, A Music Man Like Nobody Ever Saw, Bear Family Records
B.B. King, More B.B. King: Here's One You Haven't Heard, Ace Records
Bobby Rush, Chicken Heads: A 50-Year History of Bobby Rush, Omnivore Recordings
Doug MacLeod – Live in Europe, Under the Radar and Doug MacLeod
Michael Burks, I'm A Bluesman, Iron Man Records
Pinetop Perkins & Jimmy Rogers, Genuine Blues Legends, Elrob Records
Instrumentalist-Bass
Biscuit Miller
Bob Stroger
Michael "Mudcat" Ward
Patrick Rynn
R W Grigsby
Instrumentalist-Drums
Cedric Burnside
Jimi Bott
June Core
Tom Hambridge
Tony Braunagel
Instrumentalist-Guitar
Bob Margolin
Joe Bonamassa
Kid Andersen
Monster Mike Welch
Ronnie Earl
Instrumentalist-Harmonica
Dennis Gruenling
Jason Ricci
Kim Wilson
Mark Hummel
Sugar Ray Norcia
Instrumentalist-Horn
Al Basile
Nancy Wright
Sax Gordon Beadle
Terry Hanck
Vanessa Collier
Koko Taylor Award (Traditional Blues Female Artist)
Annika Chambers
Diunna Greenleaf
Inetta Visor
Shaun Murphy
Trudy Lynn
Pinetop Perkins Piano Player
Anthony Geraci
Barrelhouse Chuck
Henry Gray
Jim Pugh
Victor Wainwright
Rock Blues Album
Albert Castiglia – Big Dog
Mike Zito – Keep Coming Back
Moreland & Arbuckle – Promised Land or Bust
Tedeschi Trucks Band – Let Me Get By
Walter Trout – Alive in Amsterdam
Song
"Blues Immigrant" written by Matthew Skoller & Vincent Bucher and performed by Matthew Skoller on Blues Immigrant
"I Gotta Sang The Blues" written and performed by Thornetta Davis on Honest Woman
"Seeing Is Believing" written by Ray Norcia and performed by Sugar Ray & The Bluetones on Seeing Is Believing
"Walk A Mile In My Blues" written by David Duncan, Curtis Salgado & Mike Finnigan and performed by Curtis Salgado on The Beautiful Lowdown
"Walk it Off" written and performed by Toronzo Cannon on The Chicago Way
Soul Blues Album
Bobby Rush – Porcupine Meat
Curtis Salgado – The Beautiful Lowdown
Johnny Rawls – Tiger in a Cage
Wee Willie Walker – Live! Notodden Blues Festival
William Bell – This Is Where I Live
Soul Blues Female Artist
Bettye LaVette
Lara Price
Mavis Staples
Terrie Odabi
Vaneese Thomas
Soul Blues Male Artist
Curtis Salgado
Johnny Rawls
Wee Willie Walker
William Bell
Traditional Blues Album
Big Jon Atkinson & Bob Corritore – House Party at Big Jon's
Bob Margolin – My Road
Golden State Lone Star Blues Revue – Golden State Lone Star Blues Revue
Lurrie Bell – Can't Shake This Feeling
Sugar Ray & the Bluetones – Seeing is Believing
Traditional Blues Male Artist
Bob Margolin
John Primer
Lil' Ed Williams
Lurrie Bell
Sugar Ray Norcia