A Conversation With . . . N
A Conversation with Ben Nemtin
Host Jeremy Park talks with author and producer, Ben Nemtin. Ben and his friends set out on a two-week road trip with a camera and a borrowed RV to complete a list of "100 things to do before you die." Along their journey, they asked people the question, "What do you want to do before you die?" For each item they accomplished on their list, they helped a complete stranger do something on their own list. After that road trip, Nemtin and his friends secured funding independently to shoot a pilot and approached MTV, ultimately selling the show as executive producers and creators, maintaining creative control and officially crossing off "#53: Make a TV Show." The television series, The Buried Life, has aired in over 80 countries and is MTV's highest rated show ever on iTunes and IMDB. Nemtin has also written "What Do You Want To Do Before You Die?" that hit #1 on the New York Times Bestsellers list for four weeks. The book has been translated into 6 languages and sold in 6 foreign countries. Ben and his friends have 13 items left on their list and are currently crossing off "#91: Make a Movie," producing The Buried Life feature documentary film.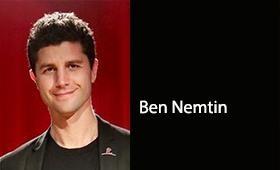 A Conversation with Mark Norris
Memphis Daily News publisher Eric Barnes talks with Senator Mark Norris about his career, the Norris-Todd Bill and public-school education in Shelby County.